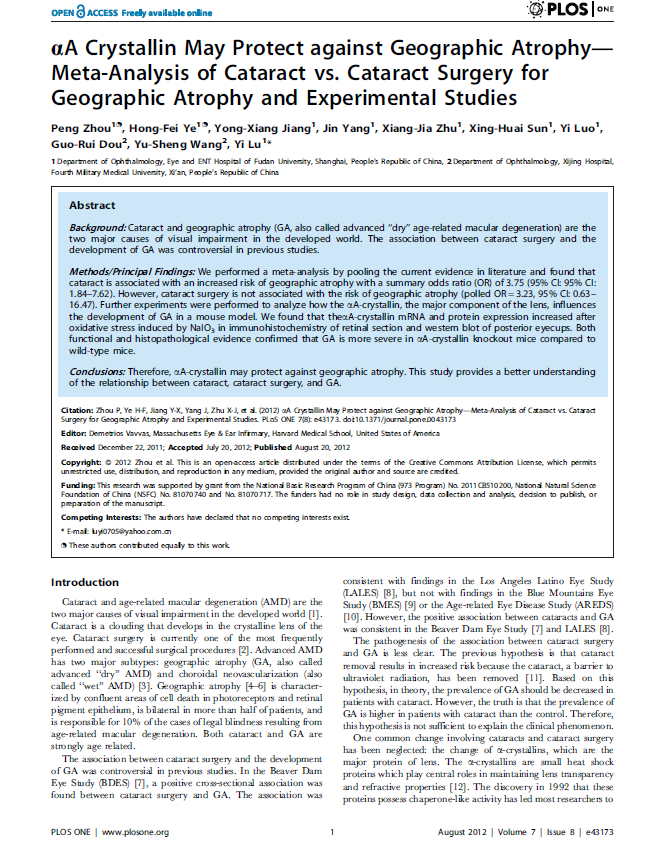 PLoS One.
2012;7(8):e43173. doi: 10.1371/journal.pone.0043173. Epub 2012 Aug 20.
1

Department of Ophthalmology, Eye and ENT Hospital of Fudan University, Shanghai, People's Republic of China.
Abstract
BACKGROUND:
Cataract and geographic atrophy (GA, also called advanced "dry" age-related macular degeneration) are the two major causes of visual impairment in the developed world. The association between cataract surgery and the development of GA was controversial in previous studies.
METHODS/PRINCIPAL FINDINGS:
We performed a meta-analysis by pooling the current evidence in literature and found that cataract is associated with an increased risk of geographic atrophy with a summary odds ratio (OR) of 3.75 (95% CI: 95% CI: 1.84-7.62). However, cataract surgery is not associated with the risk of geographic atrophy (polled OR=3.23, 95% CI: 0.63-16.47). Further experiments were performed to analyze how the αA-crystallin, the major component of the lens, influences the development of GA in a mouse model. We found that theαA-crystallin mRNA and protein expression increased after oxidative stress induced by NaIO(3) in immunohistochemistry of retinal section and western blot of posterior eyecups. Both functional and histopathological evidence confirmed that GA is more severe in αA-crystallin knockout mice compared to wild-type mice.
CONCLUSIONS:
Therefore, αA-crystallin may protect against geographic atrophy. This study provides a better understanding of the relationship between cataract, cataract surgery, and GA.
PMID:

22916220

PMCID:

DOI: