Dr. ZHOU, Peng has nearly 20 years of experience in comprehensive ophthalmology in top hospitals and specializes in the diagnosis and treatment of eye diseases, optometry examination, and external eye surgery. He has extensive experience in the treatment of myopia (nearsightedness) control, hyperopia (farsightedness), lazy eye, glaucoma, cataract, uveitis, retinal tear, diabetic retinal disorders, macular degeneration,eyelid bump, and conjunctivitis (pink eyes).
周鹏医生有近20年的眼科工作经验,擅长各类眼病诊断与治疗、医学验光、以及各类外眼手术,在近视防控、远视、弱视、青光眼、白内障、葡萄膜炎、视网膜裂孔、糖尿病视网膜病变、黄斑变性、眼睑肿物、各类结膜炎等方面有丰富诊治经验。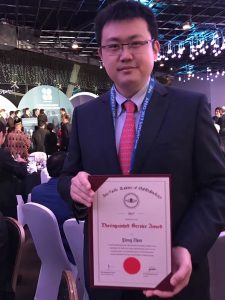 Dr. Zhou completed his research fellowship training in retinal and vitreous diseasesat Doheny Eye Institute (ranked numberseven in the U.S.), University of Southern California after residency training at the Peking University People's Hospital in Beijing, China. He received his medical doctor degree at Peking University (ranked number one in China).
周鹏医生毕业于北京大学医学部,获医学博士学位。2008至2009年在美国南加州大学Doheny眼科研究所做访问学者,对视网膜疾病进行了深入研究。
He is consultant / professor of Ophthalmology at Parkway Health Clinics. He was an associate professor of Ophthalmology at the Eye and ENT Hospital of Fudan University, Shanghai, and the attending ophthalmologist in the Department of Ophthalmology at Peking University People's Hospital in Beijing.
现任百汇医疗眼科主任医师。曾任上海复旦大学附属眼耳鼻喉科医院(上海五官科医院)眼科副主任医师,北京大学人民医院眼科主治医师。
Dr. Zhou has contributed to over 15 years of clinical and surgical treatment of eye disorders. He first reported the safe effective lowest dose of verteporfin photodynamic therapy for acute central serous chorioretinopathy. He participated in developing the manual small incision 20-gauge pars plana vitrectomy. He also reported the long-term follow-up of local relaxing vitrectomy for stage 4 retinopathy of prematurity.
参与提出了多项眼病治疗新方案。在国际上率先参与报道了使用低剂量光动力疗法治疗急性中心性浆液性脉络膜视网膜病变(一种常见的眼底疾病)。他参与改进了玻璃体视网膜手术的微创操作,并报道了一种新的治疗早产儿视网膜病变的手术方式。
Furthermore, Dr Zhou is a clinician-scientist in ophthalmology. His academic interest is in age-related diseases of the eye, with an emphasis on the pathogenesis of cataract and age-related macular degeneration (AMD). His papers were published in many academic journals, including Nature Communications. He is the principal investigator (PI) of a National Natural Science Foundation of China that investigated why elderly populations develop age-related cataracts. He was also the secretary of a National Basic Research Program of China (973 Program) that investigated the pathogenesis of AMD.
在医学科学领域,对白内障与年龄相关性黄斑变性进行了深入研究,作为文章的通讯作者,在国际顶级的《Nature》系列等学术杂志上发表了多篇论文。主持国家自然科学基金项目,并担任国家重大基础研究项目(973项目)秘书。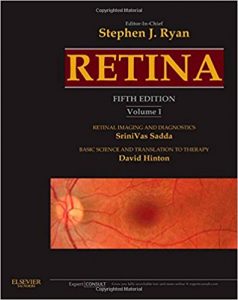 Dr. Zhou is a committee member of the Chinese Ophthalmology Society, international member of the American Academy of Ophthalmology (AAO),and the Association for Research in Vision and Ophthalmology (ARVO). He is a reviewer for 10 international academic journals, including Ophthalmology, American Journal of Ophthalmology (AJO),and British Journal of Ophthalmology (BJO). By 2017, he had published 18 articles in peer-reviewed journals. Stephen J. Ryan, the chief editor of fifth edition of Retina, invited Dr. Zhou to write two chapters for this book. Also in 2017, he received the Distinguished Service Award, the highest award of the Asia-Pacific Academy of Ophthalmology (the second largest association of ophthalmologists in the world).
现担任中华医学会眼科学分会学组委员,美国眼科学会国际会员,美国视觉与眼科研究协会会员。是《眼科》、《美国眼科杂志》、《英国眼科杂志》等十个国际眼科杂志的审稿人。在国际学术杂志发表论文18篇,多次在国内外眼科学术会议发言。应邀为第五版美国《视网膜》教科书撰写了两个章节。2017年获得亚太眼科学会(世界第二大眼科医生学术组织)的最高奖项——杰出贡献奖。
Dr. Zhou works at Parkway Health Gleneagles Medical and Surgical Center, located at Tomorrow Square, 4th Floor, 389 Nanjing Xi Road, Shanghai. Please call 400-819-6622 to make an appointment.
周鹏医生在上海南京西路389号明天广场裙房4楼百汇医疗瑞鹰门诊部出诊。可拨打百汇医疗24小时预约电话400-819-6622进行预约。